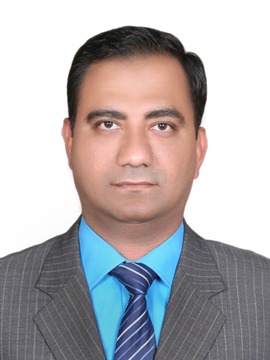 Prof. Dr. Muhammad Aamir
Associate Dean
Faculty of Electrical and Computer Engineering,
SIR SYED UNIVERSITY OF ENGINEERING & TECHNOLOGY, KARACHI.
Dr. Muhammad Aamir was born in Karachi Pakistan, on July 3, 1976. He received MS degree in Electronic Engineering (with specialization in Telecommunication) in 2002 and BS in Electronic Engineering in 1998. He accomplished his PhD in Electronic Engineering from Mehran University of Engineering & Technology. During his PhD studies, he accomplished his research work at the University of Malaga under Erasmus Mundus Scholarship. He has authored and co-authored around 50 research papers and book chapters published in various journals, books and conferences of international repute. He is a life member of Pakistan Engineering Council and professional member of IEEE for last 12 Years. He was awarded with a grant by the Ministry of Education Spain to teach at the University of Malaga which he successfully availed in May 2012. He is also Member of two separate National Curriculum Revision Committees constituted by Higher Education Commission (HEC) for revision of Electronic Engineering Curriculum and Telecommunication Engineering Curriculum at the National Level. He was served as guest editor for special issue of Springer's Journal with title "Wireless Personal Communication" which had published in November 2016. He is also HEC approved supervisor for PhD candidates in Pakistan. He is currently associated with Sir Syed University of Engineering & Technology as Professor and Associate Dean in the Faculty of Electrical & Computer Engineering. Additionally, he is also Editor-in-Chief of Sir Syed University Research Journal of Engineering & Technology which is HEC-Recognized Research Journal published bi-annually.